Mosaic offers several options for connection, spiritual growth, and ministry. Mosaic Groups are recommended for all members as a safe place for growing together and building strong multiethnic relationships through the bond of Christ. Many people also find that participating in Bible study groups, helping the next generation learn about a vibrant relationship with Jesus, or serving on a Sunday morning also provide smaller contexts to grow alongside other Mosaics.
Mosaic Groups are about doing life and growing in Christ together! All groups intentionally reflect ethnic and economic diversity in a small group setting, and some may also gather around a specific stage of life, interest, or ministry opportunity.
Active members of Mosaic Groups commit to gather with like-minded, diverse others on a regular basis to pursue spiritual, personal, and collective growth in Christ. During group meetings, we worship together, pray for each other, and discuss lessons learned through Mosaic's sermons and the Bible. Through participating, we learn to focus more on each other than ourselves, expecting the good, and quickly forgiving offenses.
Mosaic Groups exist to teach, encourage and develop Christ-followers who, in turn, bless our community.
Ministry Groups and Classes
Soul Sisters offer community and classes for adult women, and Band of Brothers is a group of men who serve and learn together. Serving on the F3 Committee which plans fun, food, and fellowship events for the Church just might be your thing! Other opportunities are available to minister to the homeless, single moms, and others experiencing current needs.
A Few Words from Our Mosaic Group Members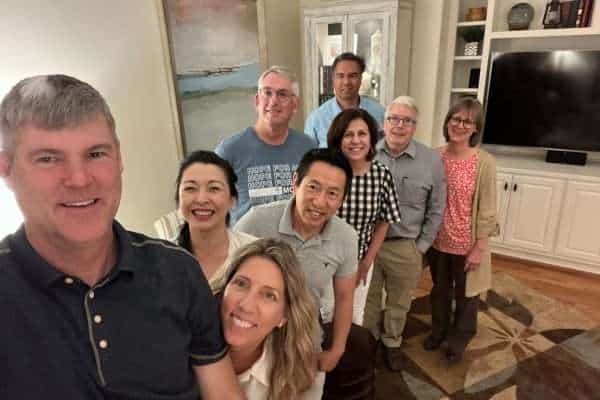 "Walk in a manner worthy of the calling with which you have been called." Ephesians 4:1 How do we walk worthy? By walking in unity that reflects gentleness, humility, patience, love, and diligence. In the process, we learn to trust Jesus and become more like Him.  Proximity, building relationships, helps us to understand each other. Through the power of the Holy Spirit, we can love, laugh together, learn, and care for each other's needs when we intentionally make time to get to know one another. This is what Mosaic Groups are all about.